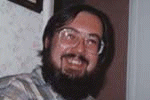 So you want to know a bit more about the BIG fella huh?
I was born in St Helier Hospital in Rosehill south of London, England in 1967. My parents decided to immigrate to Australia where we arrived in November 1975 after a month long boat trip. We settled in Sydney where we've been ever since. Yes it is a wonderful city but I still love England. Interests seem to be a lot more diverse there.
I've been back to England twice in the last five years. It was quite an experience meeting family I hadn't seen for 25 years, visiting our old house, going to a few toy swapmeets (My favourite passtime) and doing a bit of sight seeing.
I have interests in Sci-Fi TV and movies, old British series like The Saint and The Persuaders!, collectable toys of all description, reading Sci-Fi and Fantasy books (I like stories on time travel, they can really tie your brain in knots). I enjoy selling and buying at swapmeets I guess I see a lot more character in old toys than those produced today.
I don't mind playing around with electronics, metal machining, woodworking or upholstery. I say playing around with because I only know the basics of these trades.
My goals are to return to England to live, get my own house (quite a task) and maybe become a permanent sight at the swapmeets around London selling all manner of things.
I'd better get back on track now. You probably just wanted to know why my nickname is BIG Trev so I'll tell you. I'm big and my name's Trev. That's all there is to it. I stand 6'8" tall and weigh around 125kg. Simple isn't it.
Enjoy the rest of the page BIG Trev (Trevor Bradberry)
Return to the home page.
&nbsp
&nbsp